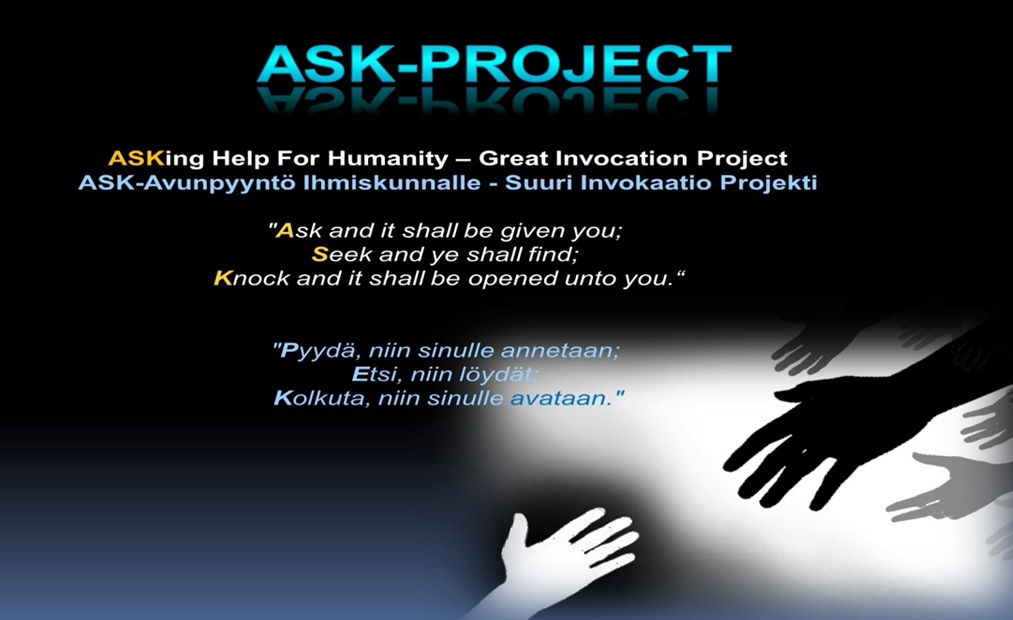 Index for A.S.K-PROJECT to Ask Help for Humanity and Related Events 
**New for 2021**  The A.S.K. programs have been expanded, new programs alternating with old programs, both offered using this link:  https://www.youtube.com/c/MoryaFederationEsotericEducation/live
Dates and Times: A.S.K. programs alternate with other broadcasts. For an updated schedule of all weekly events, please see:  Weekly Morya Federation Events
To find out about Global Triangles click here
Recording links for the specific A.S.K. and Related Events:
A.S.K. Program Outline:
Wednesdays

A.S.K Triangles Broadcast

Science of Triangles Zoom Meeting

Asking Help for the Animal Kingdom Broadcast

Thursdays

A.S.K. Reappearance of the Christ Meditation Broadcast

Calling Upon and Attuning with Angel Meditation Broadcast

Shamballa, Where the Will of God is Known Zoom Meeting

Friday

A.S.K. Dissipation of Glamor Zoom Meeting

Focusing Upon Group Progress Zoom Meeting.

Saturdays

A.S.K. Invoking the Soul of Nations Meditation Broadcast

Demanding Help for Climate Change Meditation Broadcast.

Sundays

A.S.K. Attracting Resources for Hierarchical Purposes Meditation Broadcast.
Dates and Times: A.S.K. programs alternate with other broadcasts. For an updated schedule of all weekly events, please see:  Weekly Morya Federation Events